Roughly about this time every year I catch the organizational bug. It is usually brief so I have to spring into action when it hits. This year it has been about work at home organization for homeschool mom.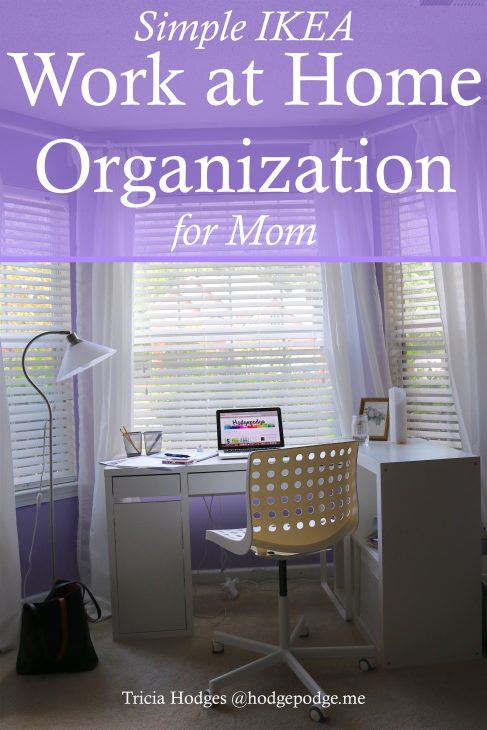 It was time. In sixteen years of homeschooling and eight years of blogging, I have not had a designated work space. So, when our eldest moved to college, I looked at her empty room and the light of the bay window…
This time last year we turned our multi-purpose room into eldest's bedroom. She chose the lovely lavender color. It has been a great space for her senior year and shall continue to be her space when she is home on breaks. In the past, this room has also been a daytime nursery, a wonderful morning room time space and a play room. In Hodgepodge fashion, it's back to being a multi-purpose room again. Office, guest room, homeschool work space.
See how I can keep an eye on the goings on in the homeschool room from my spot at my desk in the sunny window? Love it.
Instead of being those parents that, as Rhett and Link suggest in their Graduation Song, "turn your bedroom into an exercise room that they never use," we simply rearranged. I mentioned the need for a small, cheap, IKEA desk to Hodgepodgedad. He swung by IKEA during his lunch hour. That night he put the desk together and we rearranged the room.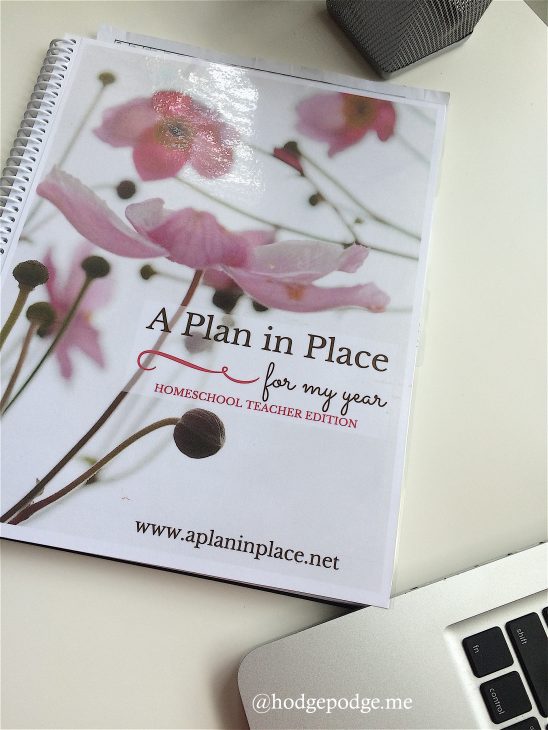 On my new desk, I have the planner I love – the Homeschool Teacher edition of the A Plan in Place planner. I have the stock edition which offers plenty of space for planning ALL of this: our homeschool year (weekly) for elementary through high school, extracurricular, appointments, meals (oh that is important!), writing for two websites, campaigns for sponsors plus fun things too! I also appreciate the brainstorming and other planning pages included. Plus the planner serves as record keeping as well. Highly recommend!
I have always loved natural light. I can sit in this sunny spot and write. And plan. I can keep dedicated office hours. I can even keep an eye on the goings on in the homeschool room during Teaching Textbooks. The IKEA 2×2 shelf was one that was already in our daughter's room. We simply turned it around so it could be an extension of the desk.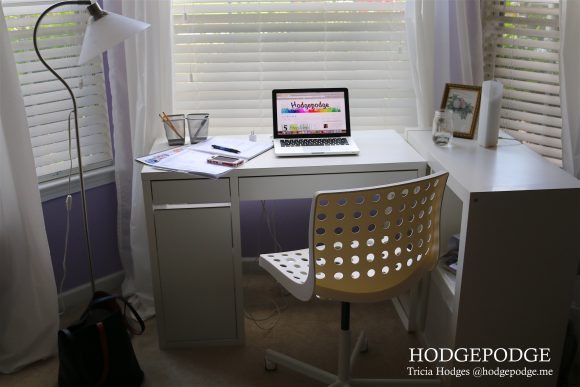 I am very pleased with this space for myself. Now I have a chance to consolidate my stacks that are around the house!
Which IKEA desk is it? IKEA MICKE, white in the children's desk section
Which IKEA chair? SPORREN, white
Also pictured beside the desk is the KALLAX 2×2 shelf unit (without the doors)
The lamp and the curtains pictured are also IKEA purchases we made when we transformed the room for our daughter last year.

More IKEA For Homeschool
Just last week, in our 5 Freedoms of Homeschooling, I mentioned how we have replaced the small, Pottery Barn kid tables with a large, butcher block kitchen table Nana gave us from my growing up years. These tall, growing children needed more leg room and more space to spread out.
This has been an ongoing process for years. A run down of the IKEA we've done in the past:
More on Working at Home
What have you rearranged lately or what new space have you created to meet a need?
Save
Save
Save
Save
Save
Save
Save
Save
Save
Save
Save