Here is how to act like homeschoolers with an example of an upside down day with evening homeschool, a field trip, movies for history, plenty of outside time and more!
There really isn't a magic formula for acting like homeschoolers. I just really wanted to share how you have the freedom to tailor your homeschool days to your schedule. You are making memories together every day!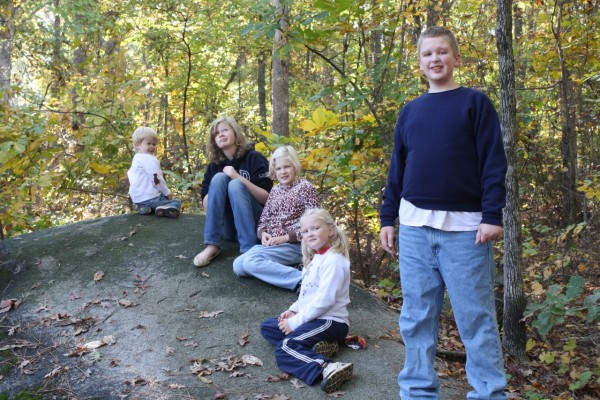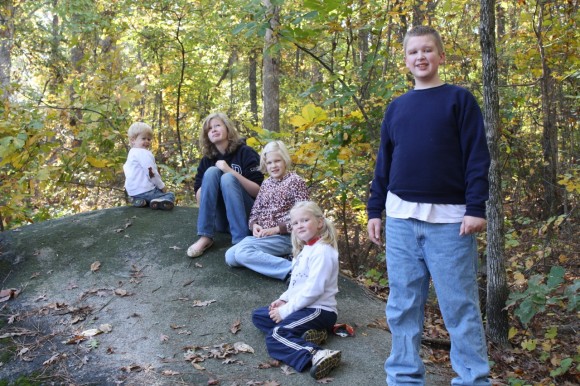 How to Act Like Homeschoolers
This was a good week. Mainly because we acted like homeschoolers. We took advantage of the freedoms in our schedule. But before I share the goodness I have to let you know that it was not without its fair share of issues. Those that come with balancing the needs of the age range. Those that focus on character development (including mine!). I don't ever want to give a false picture that things around here are always peachy keen. But it really was a good week…
Act Like Homeschoolers: Have Evening School
We had an upside down day. When one morning was full of drama practice, dance and sign language routines, we did afternoon and evening school and it was fun!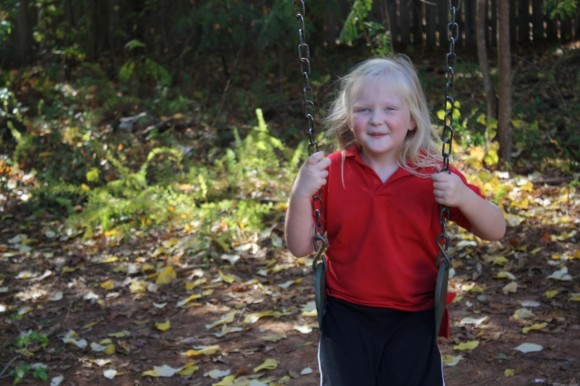 Homeschoolers Have Plenty of Outdoor Time
We stayed outside a whole bunch. We finished up school work, had only brief afternoon quiet times then went outside to soak up the golden-ness.
We went on field trips! To outdoor places. We made a family leaf trip over to Alabama to Cheaha State Park.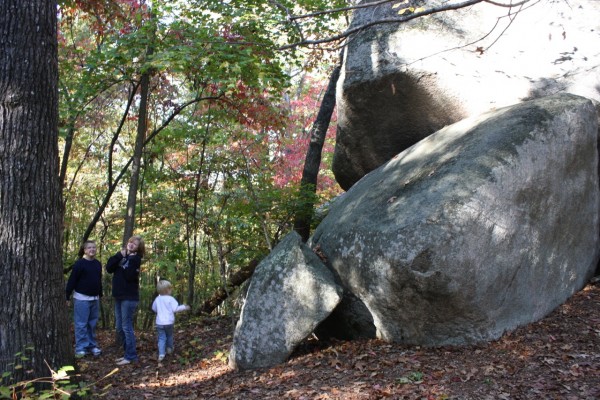 Another day this week we went on a local field trip with our homeschool group to Boat Rock.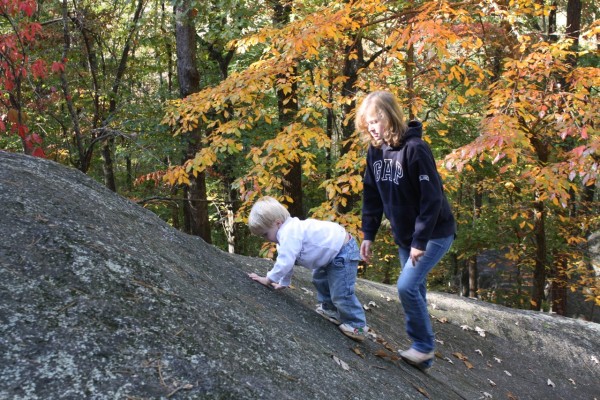 My friend, Pamela, called this special spot "a God-made playground." Indeed it is. I'll have to write up a whole 'nother post on our fall leaf times.
Homeschoolers Write Blog Posts for Writing Assignments
The children wrote blog posts for writing assignments, sharing about our science projects and results of our homeschool science fair: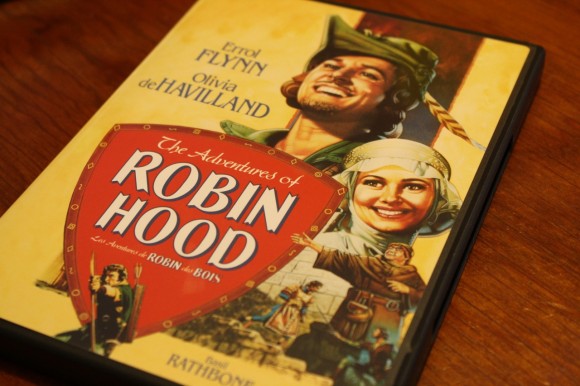 Homeschoolers Watch Movies to Supplement History Studies
We watched movies for history! (Listed in our Tapestry of Grace resources) Robin Hood starring Errol Flynn and Olivia de Havilland and, this weekend, Ivanhoe starring Elizabeth Taylor. If you are also studying this part of history, you might be interested in Nana's Medieval Castle: A Pastels Tutorial, posted earlier this week.
In other Tapestry of Grace news, we talked through the remainder of our unit during our weekly Tapestry meeting – the unit we'll be finishing up around Thanksgiving. I ordered our lapbook for the unit for all to work on over the next weeks. Each child picks several favorite topics, researches and contributes to the family lapbook. It's a great review of the unit. We are working up to our Unit Celebration. I shared about this in a Thanksgiving Homeschool Celebration this week. The children are totally in charge of this time when they share their projects, writing, play piano pieces, sing choir songs, put on a Thanksgiving play and one even plays the role of videographer.
Example of a Homeschool Week With Multiple Ages
1. Making pictures for the rehab unit of the hospital | 2. Nature journal ideas! | 3. Lil' buddy vacuuming | 4. Watching chipmunks chase each other in the backyard was a perfect end to our Squirrel & Chipmunk Nature Study | 5. Squirrel & Chipmunk lapbook | 6. AiG Science Fun Fact about Teeth | 7. Baked Sweet Potato Fries for lunch | 8. How It's Made Shows on Netflix
We finished a composer and artist study! Seventh grader started Homeschool Fine Arts Medieval/Renaissance studies back in September. I shared then how much he enjoys the accompanying Draw Squad art lessons. (Full Review of Draw Squad here) Well, his enthusiasm caught on. Now the whole family is joining in the composer and artist studies. Last month we studied Vivaldi and Giotto. We've slowly built in a routine of listening to the composers while we are in the car or together while doing an art project. This month we've enjoyed Bach.
Mozart said of Bach: "He is the father of all music. We are his children."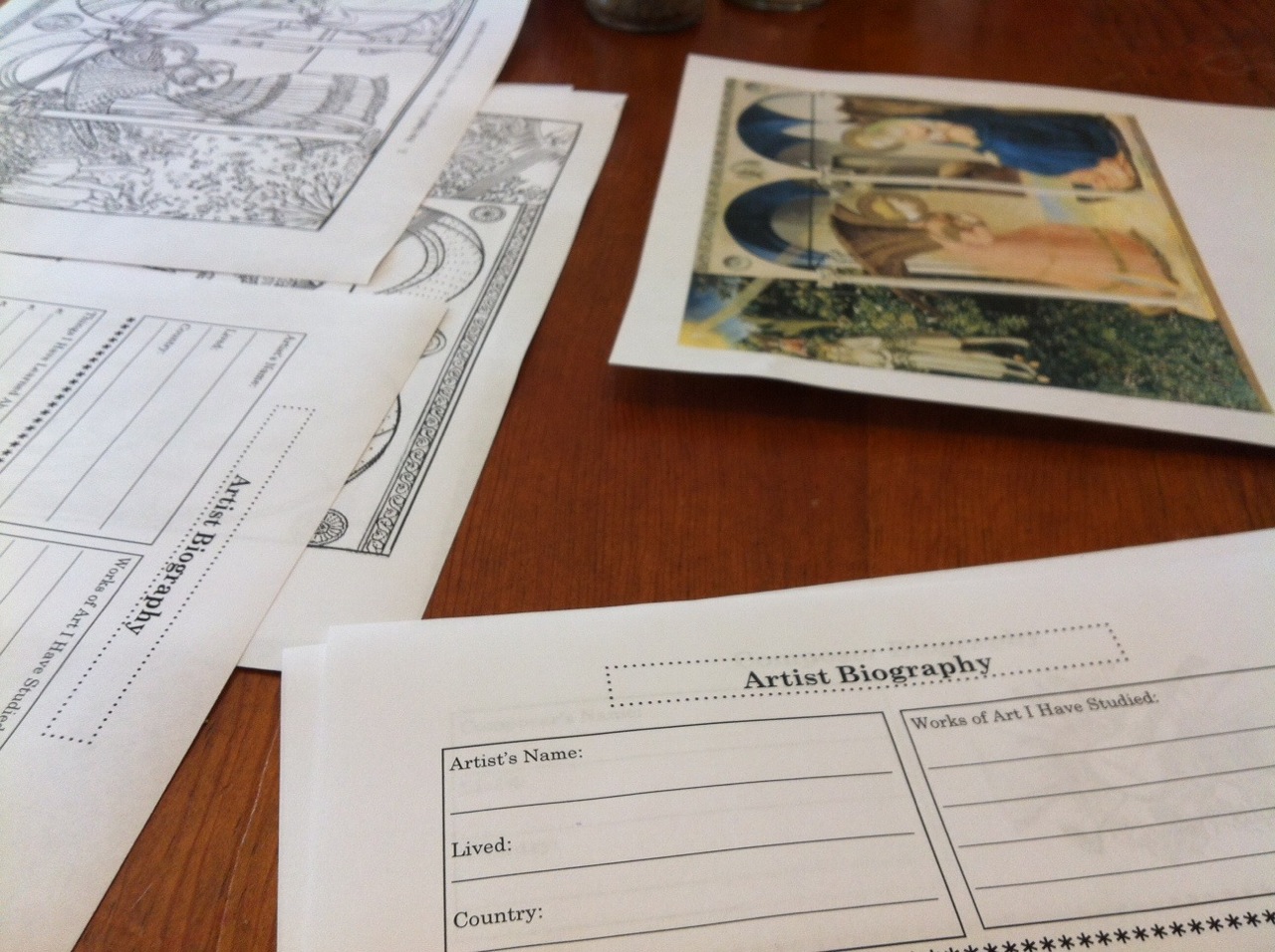 And, one day this week, we colored in a Fra Angelico coloring page (provided in the HFA plans) while listening to Bach via Classics for Kids.
Another morning we listened to The Story of Bach in Words and Music from the Music of the Masters series – while we enjoyed our up-close leaf study.
I have a full review of the Homeschool Fine Arts Music and Art Appreciation Plans at our sister site, The Curriculum Choice. You can also browse the full line of art and music studies curriculum.

How 'bout you? Did you act like homeschoolers and take advantage of the freedoms in your schedule?
P.S. For you, friends: Chocolate-Chocolate Chip Pumpkin muffins (just 2 or 3 ingredients) for your weekend!
-published October 2011 and updated January 2023