This guide to lovely Christmas activities for your homeschool is designed to be filled with ideas to simplify and enjoy the season. So, fix a steamy cup of hot chocolate and settle into your favorite chair by the twinkling holiday lights.
In the last several years I've shared how we take December off from homeschool. Well, in reality we don't completely take the month off. We just change up our learning. Our focus is on all the celebratory things leading up to Christmas. And it looks a little different each year according to ages and stages. Do You Homeschool in December?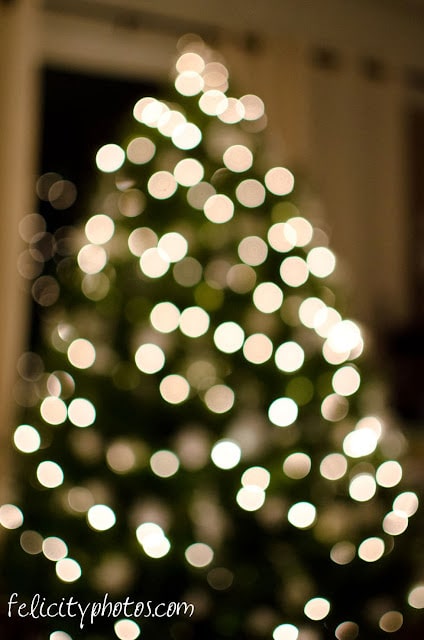 Simple Christmas Traditions
Years ago I let go of the notion of the perfect holiday with all of its long list of ingredients and turned to the practical, enjoyable celebration. This goal was met with a few, simple steps. I'm sharing that with you, too. Simple Holidays for the Homeschool Mom
We are keeping Christmas simple this year. Why stress about gifts, and having everything just right, when the whole purpose of the season is to worship the One Who came as a baby, so that He could rescue us and show us His light? How to Have a Simple Christmas
This may be a lonely time of year for you. Here is some help for the struggling homeschool mom when it's almost Christmas.
Sometimes it is calm and bright in our homeschool in December. Sometimes not! December is such a beautiful, blessed time of year! However, it is also one of the very busiest times of year for us. Wonderful drama programs, choir concerts, piano recitals, parties, family gatherings, giving of gifts and… whew!
Ever since my oldest daughter was old enough to understand language, I have told my children that I am Santa Claus. I suspected that they would not believe me; I was right. I have always told the truth about who Santa Claus is. I am Santa Claus by Hodgepodgedad
Three Gifts for Christmas – Here is the habit that helped us simplify gift giving for our children. Three gifts for Christmas.
Adding Fun to Your Christmas Homeschool
So, in hopes of focusing on Jesus and the real meaning of Christmas we take a certain approach to homeschooling in December. We change up the learning with our Christmas activities.
December Read Alouds for Christmas Joy
So exciting to start Ishtar's Odyssey with the Hodgepodge tonight! #advent Love this series of books that points us to the newborn King. "Ishtar, it seems you have discovered a star that even yesterday did not exist!"
Favorite Christmas picture books and storybooks. But especially the Jotham's Journey series and the latest! Ishtar's Odyssey.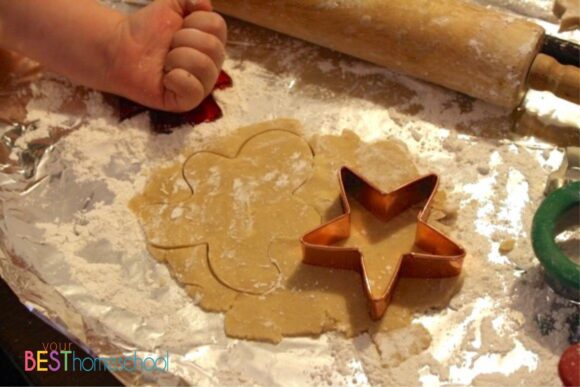 Christmas Activities: Baking with Kids
Nana's Favorite Sugar Cookies Recipe – This is our favorite sugar cookies recipe for kids. Entitled Holiday Cookies in my family cookbook, this is the recipe we use for our cut out Christmas cookies.
What is your favorite Christmas breakfast? Your children can join in on the Great Christmas Debate – with several favorite recipes to choose from.
Nana's Apple Pie Recipe is always a fun and easy one for any time of year!
Kim's Chocolate Mint Brownies Recipe is perfect for any holiday gathering.
And Kerri's Brownie Trifle Recipe is a great show-stopper to share!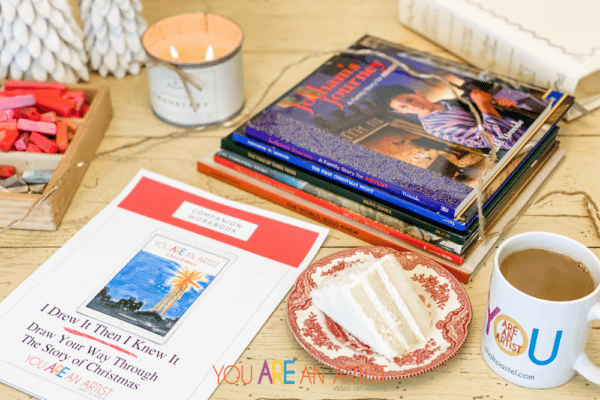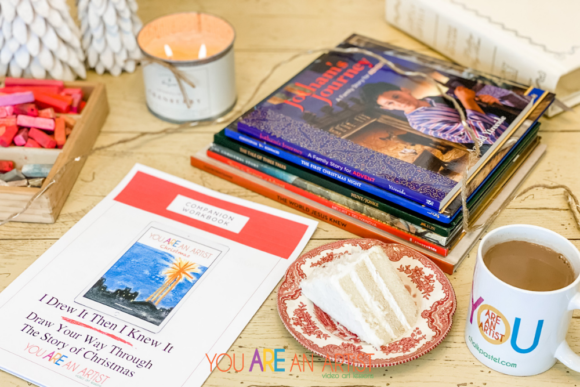 Christmas Homeschool Art Activities
Enjoy this ultimate list of Christmas Homeschool Art Lessons! Christmas homeschooling allows us to focus on the real reason for the season. And you can do that in so many ways. We will give many resources to choose from and help you customize your perfect Christmas school day, week, or month.
Draw Your Way Through the Story of Christmas – Add these Advent art activities to your Christmas Homeschool plans! You can draw your way through the story of Christmas from the angels announcing Messiah's birth to the manger scene.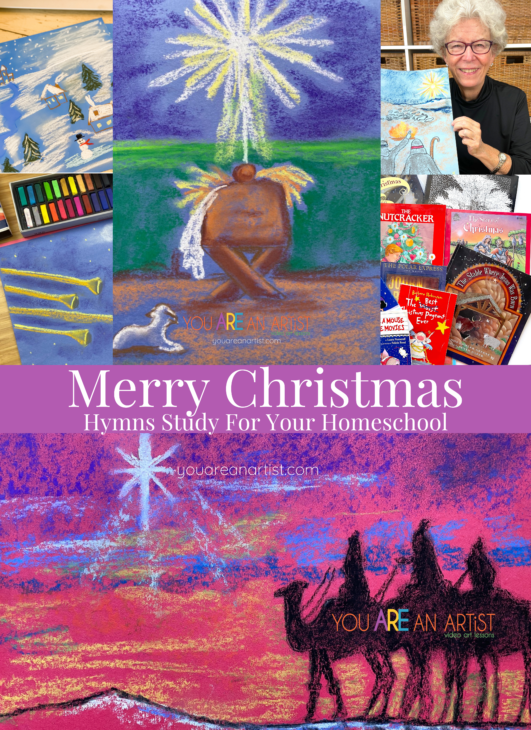 A Merry Christmas Hymns Study for Your Homeschool – Whether you homeschool as normal through December, add in Christmas activities, or trade all your homeschool curriculum for 'Christmas School,' a Christmas hymns study can be an enjoyable part of your school day. It is a beautiful opportunity for the family to learn and worship together.
Glowing Christmas Tree Art Lesson – in honor of the favorite, glowing Christmas tree you spot on your drive around town – we have a glowing Christmas tree chalk art tutorial.
Christmas Homeschool Nature Study
Enjoy a simple, joyful and stress-free Christmas event for the whole family. With art, nature and music plus a nature craft for your Christmas homeschool, you can make memories and have fun together: Joyful Art, Nature and Music for Your Christmas Homeschool.
A Christmas Tree Study for Kids – When we are homeschooling through the holidays, we can change things up, take our time, incorporate favorite traditions and make lovely memories together as a family. Many families choose to set aside this time for Christmas School. These weeks can lead up to and create a special focus on the birth of Christ.
More Fun Christmas Activities for Learning in Your Homeschool
Here are even more Christmas activities for fun and memory making!
Don't forget: You ARE invited! Join us for Christmas Tree for the Animals – sign up for FREE here.
Merry Christmas, friends! May it be blessed. Joyful.